Diver Scallops Provençal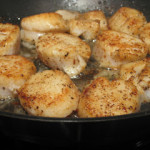 By Deborah Published: July 30, 2014
Ingredients
Instructions
Cut any large scallops in half, horizontally. Rinse the scallops under cold water and drain well in colander.

To Prepare the Mushrooms: Clean and quarter the mushrooms. Heat 1 tablespoon of the butter and 1 tablespoon of the oil in a large skillet over high heat. Sauté the mushrooms for 3 or 4 minutes and season with salt and pepper. Transfer the mushrooms into a small bowl and reserve. wipe the pan clean.

To Prepare the Scallops: Season the scallops with salt and pepper and dredge in flour. Remove excess flour by shaking the scallops back and forth in a sieve.

Heat the remaining butter and oil over high heat. When the butter begins to brown, add the scallops in a single layer. Brown the scallops on one side for 2 minutes, turn with a pair of tongs, and brown the other side for 2 minutes.

Scatter the shallots over the scallops and toss once or twice. Add the diced tomatoes, garlic, lemon juice, and quartered mushrooms. (Drain the mushrooms if any juice has accumulated in the bowl.) Toss several times until all are evenly distributed.

Transfer the scallops to warm plates and sprinkle with the chopped parsley.