Prosciutto-wrapped Rockfish with Asparagus and Garden Herb Beurre Blanc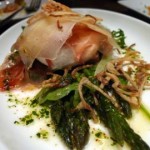 By Deborah Published: June 3, 2014
Ingredients
Instructions
TO PREPARE THE ASPARAGUS: Trim the cut ends of the asparagus stalks, rinse in cold water and drain.

Place the prepared asparagus in an oven-proof roasting pan. Season the asparagus with salt and pepper and drizzle with olive oil. Set aside until it is time to cook the fish.

TO PREPARE THE ROCKFISH: Preheat oven to 400 degrees.

Season rockfish fillets with salt and pepper. Sprinkle 1/2 teaspoon thyme on each fillet. Place 2 slices of prosciutto on the work surface, overlapping slightly. Place 1 fish fillet crosswise in center of prosciutto, fold prosciutto over fish fillet. Repeat with remaining prosciutto and rockfish fillets.

Place the seasoned asparagus in the oven and roast until al dente. Time will vary depending on the thickness of the asparagus.

Heat the oil in a medium ovenproof skillet over medium-high heat. Add prosciutto-wrapped fish, seam side down. Cook until prosciutto is brown on all sides, about 1 minute per side. Transfer skillet to oven and roast fish until cooked through, about 4 to 5 minutes. Transfer the fish and asparagus to plates and keep warm.

While fish is cooking, prepare the Garden Herb Beurre Blanc.

TO PREPARE THE BEURRE BLANC: Dice the butter and reserve in the refrigerator.

Combine the wine, vinegar, and shallots in a small saucepan and boil down, until almost dry. Reduce the heat to the lowest setting. Whisk in the chilled butter, several pieces at a time. Whisk constantly until all the butter has been incorporated into the sauce and remove from heat. Stir in the assorted chopped garden herbs. The sauce should have the consistency and appearance of a light hollandaise.

Taste and adjust seasonings. Transfer to a warm sauce boat.

TO SERVE: Drizzle sauce over fish and serve.