Alsatian-Style Asparagus with Veal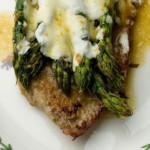 By Deborah Published:
Ingredients
2 quarts

water

2 tablespoons

salt

2

bay leaves

4 whole

cloves

2 pounds

fresh jumbo asparagus

4

veal scallopini,

cut from the top round

sea salt

freshly ground pepper

all-purpose flour

1 stick

butter

1 tablespoon

vegetable oil

4 slices

dry cured ham

1 tablespoons

red wine vinegar

2 teaspoons

capers

8 tablespoons

grated Gruyère cheese

2

hard boiled eggs

4 sprigs

fresh parsley
Instructions
To Prepare the Asparagus: In a saucepan, combine the water with the salt, bay leaves, and cloves and simmer for 15 minutes.

Meanwhile, peel the asparagus and cut off the tough lower stems. Lay the asparagus in a deep pan so that all the tips are facing in the same direction. Cover the asparagus with the seasoned water, bring to a boil, and simmer 5 to 6 minutes. Drain at once on towels.

Preheat the broiler.

To Prepare the Veal: Pound the veal to an even thickness of 1⁄4 inch with the flat side of a meat cleaver. Season with salt and pepper and dredge in the flour, shaking off the excess.

In a large sauté pan, combine 2 tablespoons of the butter and 1 tablespoon of oil over high flame until the butter begins to brown. Add the veal and sauté quickly on both sides until lightly browned, 1 to 2 minutes. Remove the veal and keep warm. Add the slices of ham and lightly sauté, about 20 seconds on each side.

To Assemble: Place a slice of veal and a slice of ham side by side on warm dinner plates. Arrange the asparagus on top of the meats and sprinkle with the vinegar and capers. Top with the grated cheese. Place the prepared plates under the broiler to brown the cheese.

To Garnish and Serve: Brown the remaining butter. Remove the plates from the broiler and pour the browned butter over the asparagus. Garnish each plate with two quarters of hard- boiled egg and a sprig of fresh parsley. Serve at once.