Apple Smoked, Maple Brined Wild Ducks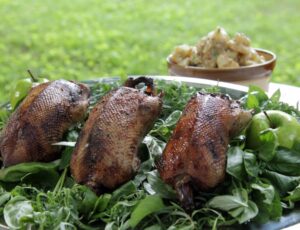 By Deborah Published:
Ingredients
3 whole

wild Mallards

sea salt

freshly ground pepper

For the Marinade:

2 quarts

water

1 cup

maple syrup

1/2 cup

bourbon

1 tablespoon

sea salt

2 teaspoons

coriander

2 teaspoons

juniper berries

10

cloves

2 teaspoons

cracked peppercorns

For the Barbecue:

applewood chunks
Instructions
Three whole wild mallards, cleaned and gutted. Rinse ducks thoroughly with cold water.

For the Marinade: Place ducks in a stock pot just large enough to fit the ducks snuggly side by side. Mix the marinade ingredients into 2 quarts cold water. Pour marinade over the ducks to just cover the ducks, add more water if needed. Cover and chill overnight or up to 2 days.

To Barbecue the Ducks: Soak applewood chunks in fresh water at least 30 minutes. Prepare charcoal fire in smoker; let fire burn 20 to 30 minutes.

Remove ducks from marinade, and pat dry. Season well with sea salt and freshly ground pepper.

Drain wood chunks, and place on coals. Place water pan in smoker, and add marinade to depth of fill line. Place ducks in center of lower rack; cover with smoker lid.

Cook approximately 1 to 1 1/2 hours or until a meat thermometer registers 180 degrees, adding additional marinade, charcoal, and wood chunks as needed. Remove from smoker, and let stand for 15 minutes before slicing. Cooking time varies widely depending on size of ducks. (wild goose takes approximately 3 hours)

To Serve: Serve thinly sliced on warmed plates. Papa's Alsatian Potato Salad is excellent served with the ducks. Sliced duck served in a sandwich with condiments of your choice is delicious.