Braised Duck Legs with Spätzle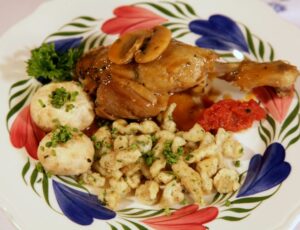 By Deborah Published:
Ingredients
8

wild duck legs

2 tablespoons

butter

1/4 pound

bacon

cut into 1/4 x 1 1/2 inch strips (about 1/3 cup lardons)

1/3 cup

finely chopped onions

1 cups

dry white wine

1 1/2 cups

chicken stock

or duck stock

sea salt

freshly ground pepper

flour

For the Spätzle:

1 1/2 cups

sifted all purpose flour

1/4 teaspoon

sea salt

1 tablespoon

fresh chopped parsley

2

whole eggs

1/8 cup

water

2 tablespoons

butter

pinch

nutmeg

pinch

freshly ground pepper
Instructions
Season the duck legs on all sides with salt and pepper, and dredge with flour, shaking off any excess.

To Braise the Duck Legs: Melt the butter in a large saucepan, add the bacon lardons and sauté. When the lardons are browned, lift them out with a slotted spoon and reserve.

Add the prepared duck legs and brown on all sides. Remove the legs from the pan. Add the onions and simmer until translucent. De-glaze the pan with white wine.

Return the duck legs and lardons to the pan. Add 1 1/2 cups stock, cover and simmer until the legs are tender (20 - 30 minutes) Cooking times vary depending on size and species of duck. Test for doneness with a fork, meat will fall from the bone and juices will be clear. Remove legs from the pan; continue to heat sauce to reduce by half, then strain sauce.

To Prepare the Spätzle: Place the flour in a large mixing bowl with the salt, nutmeg, pepper, and parsley. Break the eggs into a small bowl and beat well with a fork. Gradually pour the eggs into the flour, mixing thoroughly with your hand or flexible rubber spatula. Add the water a little at a time and mix until the dough no longer adheres to the sides of the bowl. The dough should be rather firm, the consistency of a thick batter.

Bring 2 quarts of water with 2 tablespoons salt to a rapid boil. Cover the pot of boiling water with a spätzle maker or a colander with large holes (1/4 - 3/8 inch in diameter). Force the dough through the holes with the rubber spatula. Use about 1/3 of the dough at a time. Allow the spätzle to cook until it rises to the surface (3 - 5 minutes). Using a slotted spoon, transfer the cooked spätzle into a large bowl of cold water. Repeat until all the dough is used.

To Serve: Thoroughly drain the spätzle in a colander. Melt the butter in a skillet. When the butter begins to brown, add the spätzle and sauté for 1 - 2 minutes until hot. Season with salt and pepper and serve on warmed plates. Serve two duck legs per plate with sauce and spätzle.