Châteaubriand with Sautéed Potatoes & Scallions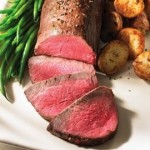 By Deborah Published:
This luxurious meal was named in honor of the French writer and bon vivant, Vicomte François René Châteaubriand, who passed on at the age of eighty in the arms of his young mistress.
Ingredients
Potato Ingredients:

1/2 pound

Yukon Gold potatoes

(approximately 2 medium)

1 1/2 tablespoon

olive oil

1 tablespoon

butter

2

scallions,

finely minced

sea salt

freshly ground pepper

Meat Ingredients:

1 18 - 20 ounce

center cut of beef tenderloin

1 teaspoon

sea salt

1 teaspoon

cracked black peppercorns

1 tablespoon

butter

1 tablespoon

oil
Instructions
To Prepare the Potatoes: Wash potatoes. Place unpeeled in a 1- quart saucepan and cover with cold water. Bring to a boil, reduce heat, and simmer about 15 minutes. Potatoes must be only partially cooked. Test for doneness by piercing potatoes with a large meat fork. The fork should meet with some resistance, cool the potatoes under cold running water.

Peel the potatoes, cut them in half, and then into slices 1/2-inch thick.

Heat the oil and butter in a heavy skillet. When the butter begins to brown, add the potato slices. Cook the potatoes until well browned and crisp, tossing frequently, approximately 5 minutes.

Add the scallions and a pinch of salt and pepper. Toss and keep warm.

To Prepare the Meat: Trim any fat or silver skin that covers the meat. Place the meat, large end up, in the center of a dish towel. Wrap the towel tightly around the meat. Gather the loose ends of the towel and grasp firmly to securely hold the meat upright.

Pound the "Château" with the flat side of a meat cleaver to approximately half the original height. The flatter and more cylindrical the shape, the easier it is to cook and slice the meat.

Season the meat with salt and cracked peppercorns. Heat the butter and oil in a heavy skillet over high heat. When the butter browns, sear the meat well on both sides. Lower the flame slightly and cook the meat a total of 16 minutes for medium rare. Using tongs, turn the meat several times to ensure even cooking. Do not use forks for turning.

Preheat oven to 375 degrees.

To Serve: Remove the meat from the pan and let rest for 5 - 10 minutes before finishing. Arrange potatoes in clusters around the sides of a large ovenproof platter. Carve the meat on a slant into 3/8-inch slices and arrange down the center of the platter. Place the prepared platter in the oven for 2-3 minutes to heat. Serve with Béarnaise Sauce.

Variation: Serve Châteaubriand with any assorted seasonal vegetables such as Baked Tomatoes with Herb Bread Crumbs or Sautéed Green String Beans.