Diver Scallops in Citrus Sauce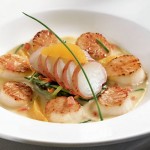 By Deborah Published:
Ingredients
1

whole orange

1

whole lime

20 large

Diver Scallops

sea salt

freshly ground pepper

3 tablespoons

salted butter

1 teaspoon

olive oil

1 tablespoon

finely chopped shallots

1 cup

fresh squeezed orange juice

2 teaspoons

chopped chives

parsley sprigs
Instructions
To Prepare the Citrus: Using a sharp knife, cut away the outer rind and white membrane of both the orange and the lime. Section the citrus by cutting along the longitudinal membranes. Set the citrus sections aside.

To Prepare the Scallops: Blot scallops with a paper towel to dry. Season the scallops with sea salt and freshly ground pepper. Place a medium sauté pan over medium-high heat and add 1 tablespoon of butter and 1 teaspoon of olive oil. When butter begins to brown, add the scallops. Sear the scallops on each side for approximately 2 minutes per side, or until just cooked through. Remove the scallops from the pan with a slotted spoon, retaining the pan juices, and set aside.

Return the same sauté pan with the pan juices to the stove over high heat. Add the shallots and sauté lightly, about 10 seconds, and immediately pour in the orange juice. Reduce the juice by one half, about 5 minutes, and remove pan from the heat. Whisk the remaining 2 tablespoons of butter into the pan juices. Set aside.

To Serve: Divide the reserved citrus sections around the edges of 4 serving plates and place in a low oven to heat.

Warm the sauce over low heat, but do not boil. Add the cooked scallops and toss to warm them. Divide the warm scallops among the 4 warm plates, spoon sauce over the scallops, and sprinkle the scallops with the chopped chives. Garnish with parsley sprigs and serve immediately with Saffron Rice.