Duck Breasts with Apples & Plums and Homemade Applesauce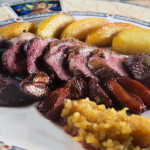 By Deborah Published:
Ingredients
For the Fruit Garnish:

2 large

apples

8

plums

1 tablespoon

sugar

4 tablespoons

butter

For the Applesauce:

3 large

apples

1 tablespoon

butter

1 - 2 tablespoons

sugar or maple syrup,

to taste

1/2 teaspoon

ground cinnamon

1 tablespoon

water

For the Breasts:

4 5-6 ounce

duck breasts

2 tablespoons

butter

1 tablespoon

oil

sea salt

freshly gound pepper
Instructions
TO PREPARE THE FRUIT GARNISH: Peel, core, and cut the apples into 16 wedges. Split the plums in half lengthwise and remove the pits. Melt 2 tablespoons butter in a small skillet. Add the apple wedges, sprinkle with the sugar and sauté, tossing frequently, for 3 - 4 minutes until the sugar is caramelized and apples are tender. Sauté the plums in the same manner with 2 tablespoons butter, but do not sweeten unless they are very tart. Set fruit aside.

TO PREPARE THE APPLESAUCE: Peel, core, and cut the apples into 1" pieces. Melt 1 tablespoon butter in a small skillet. Add the apple pieces, sprinkle with the sugar (or maple syrup) and cinnamon. Add the water, and sauté, stirring frequently until the apples are tender, about 5 minutes. Place cooked apples in a food processor or blender and pulse to a chunky consistency.

TO PREPARE THE BREASTS: Lightly salt and pepper the duck breasts. In a large skillet, heat 2 tablespoons butter and 1 tablespoon oil. When the butter begins to brown, add the breasts, skin side down. Sauté for 2 minutes. Then turn the breasts and cook for an additional 1 - 2 minutes for medium rare. Increase or reduce cooking times to suit individual taste. Remove from the pan and allow to rest for a minimum of 5 minutes.

TO SERVE: Divide the fruit between four ovenproof plates and place in a 200 degree oven to warm. Cut breasts into thin diagonal slices and place one sliced breast on each warmed plate. Serve with the homemade applesauce.

HINT: Debone a duck by placing it breast up with the cavity facing you. Grasp the left thigh, pull it away from the carcass, and then down through the joint to separate it. Turn the duck so the neck faces you and remove the other thigh. Remove the breast by running the knife along one side of the breastbone and scraping the meat off along the rib cage. Cut through and detach the wing joint at the shoulder. Repeat on the other side. Finally, cut away the wing joint attached to each breast, leaving two duck "steaks"

Duck breasts may be grilled for this recipe.