Lobster and Asparagus Salad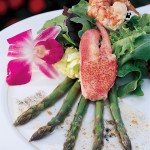 By Deborah Published:
Erotic references about asparagus can be traced to ancient Greek and Roman texts. Culpepper's Complete Herbal, a seventeenth century work, states that asparagus "stirreth up the bodily lust in man or woman"
Ingredients
1 1/4 pound

lobster

The Vanilla Vinaigrette:

2

vanilla beans

1/3 cup

champagne

or white wine vinegar

1/3 cup

vegetable oil

1/2 teaspoon

finely minced shallots

sea salt

freshly ground pepper

pinch

of sugar

optional

The Salad:

8-10 stalks

of lightly steamed asparagus

2 cups

mesclun salad, mixed baby lettuce
Instructions
To prepare the asparagus and lobster: Fill a pot fitted with a steamer top with salted water and bring to a boil. Steam the asparagus to al dente, remove, and allow to cool. Place the lobster in the steamer, cover, and cook for approximately 8-10 minutes until the lobster is just cooked through. Remove and allow to cool.

Crack the claws to remove the meat. Split the lobster tail down the center and remove the meat. Reserve with the lobster claws.

To prepare the vinaigrette: Split the vanilla bean in half lengthwise and scrape the seeds from the insides of the pod. Combine the split beans, vanilla seeds, and vinegar in a small saucepan and bring to a boil. Immediately remove pan from heat and allow to steep for 5 minutes. Remove the split beans from the pan.

Combine the oil and shallots in a small mixing bowl and whisk in the vinegar from the saucepan. Scrape the pan with a rubber spatula to retrieve all of the vanilla seeds.

Season with sea salt, freshly ground pepper, amd a pinch of sweetener, if desired. The sweetener enhances the flavor of the vanilla.

To assemble the salad: Divide the well-drained and cooled asparagus between two serving plates. Place the washed and well-drained salad in a mixing bowl, add 1/2 of the vinaigrette, and toss. Divide the salad between the two servings of asparagus. Cover the stems but leave the asparagus tips exposed.

Divide the lobster and the claws between the two salads, placing them on top of the salad greens.

Spoon the remaining vinaigrette over the lobster and asparagus tips. Serve at once.