Quail Stuffed with Foie Gras Recipe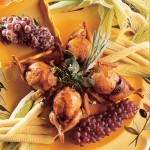 By Deborah Published:
Let me warn you that eating game may bring out the wild streak we all have inside us. Be prepared should a little wildness ensue. We really are what we eat.
Ingredients
The Quail:

4

partially boned quail

sea salt

freshly ground pepper

2 tablespoons

butter

1 tablespoon

oil

1 cup

chicken stock

The Stuffing:

3 ounces

duck meat

or substitue chicken breast

3 ounces

fresh foie gras

1/2 teaspoon

salt

pinch

of freshly ground pepper

pinch

of pâté spices

1

whole egg

1/2 cup

heavy whipping cream

1 1/2 teaspoons

Cognac
Instructions
To Prepare the Stuffing: Cut the duck meat and foie gras into small pieces and finely grind in a food processor fitted with a steel blade. Add the seasonings and egg, blending thoroughly. Slowly pour the cream through the feed tube with the motor running until completely incorporated. Taste for seasonings and chill.

To Prepare the Quail: Use a piece of kitchen twine to tie off the neck opening and season the inside of each quail with a little salt and pepper. Fill a pastry bag with the prepared meat and stuff the quail, dividing the stuffing evenly among the 4 birds. Bend the legs forward against the body and tie securely, completely enclosing the quail cavity.

Melt the butter and oil in a heavy skillet over high heat. When the butter begins to brown, place the quail in the pan and sear lightly on all sides. Place in the oven and roast for 18 minutes until the stuffing is completely cooked through. Remove the quail from the oven and cut away the string. Set quail aside and keep warm.

To Prepare the Sauce: Pour the grease from the skillet and add the chiken stock. Bring to a boil and scrape the bottom of the pan. Transfer the liquid to a small saucepan. Boil again, skim thoroughly, and remove from heat. Taste and adjust seasonings.

To Serve: Place 2 quail per person on warm plates. Divide the sauce evenly. Serve with wild rice and seasonal vegetables.