Seafood in Saffron Sauce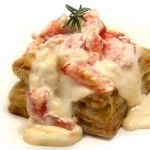 By Deborah Published:
Ingredients
1/3 pound

bay scallops

1/3 pound

shrimp,

peeled and deveined

4 tablespoons

butter

1 tablespoon

finely minced shallots

1/2 pound

fresh white mushrooms,

cleaned and quartered

1 cup

dry white wine

2 tablespoons

lemon juice

large pinch

of saffron

Beurre Manié,

consisting of 2 tablespoons each softened butter and all-purpose flour

1/2 cup

heavy whipping cream

1/2 pound

jumbo lump crabmeat

1/4 teaspoon

salt

pinch of

freshly ground pepper

4 teaspoons

sherry

4 large (3 inch diameter)

puff pastry shells,

baked

chives or parsley,

freshly chopped
Instructions
Wash the scallops and shrimp in cold water and drain well.

Melt the butter in a large saucepan over medium heat. When the foam subsides add the shallots and sauté for a few moments; do not brown. Add the mushrooms and cook until they are tender, 2 to 3 minutes. Pour in the white wine and lemon juice, and bring to a boil. Add the scallops and shrimp. As soon as the liquid comes to a full boil, remove shrimp, scallops, and mushrooms with a slotted spoon. Place the seafood and mushrooms in a bowl and cover with a damp towel to prevent drying and set aside.

Preheat the oven to 300 degrees.

Blend the 2 tablespoons softened butter with the flour thoroughly to make the Beurre Manié. With a whisk, stir it into the boiling liquid, add the saffron, lower the heat, and boil gently for 5 to 8 minutes. Stir occasionally to prevent lumps from forming. Pour any juices that have accumulated in the bowl containing the seafood and mushrooms into the sauce. Add the heavy cream, boil for a minute or two, and remove from heat.

Carefully stir in the crabmeat, scallops, shrimp, and mushrooms. Season with the salt, pepper, and 2 teaspoons of sherry. Taste and adjust seasonings.

Place the baked puff pastry shells on a baking sheet. Pour 1/2 teaspoon sherry in each and set in the oven for 4 to 5 minutes to warm. Heat four ovenproof plates and place a warmed puff pastry shell on each. Fill shells with the seafood, allowing the sauce to run over the sides of the shell and on to the plate. Sprinkle with chives or parsley and serve at once.

Hint: Place fresh steamed mussels around the filled shell just before serving.